Pick-your-own puts people back on the farm.
Original article found HERE
Grimsby Lincoln News
JORDAN — In many ways, farming combines the marathon with the mad dash.
Months of careful plodding along, making sure the crops are growing well, disease or weeds aren't taking over and that there's enough water. It's the slow buildup to harvest time, when the hours are long and the work maniacal as farmers rush to get the crops off in time.
Perhaps nowhere is that more true than in the orchards of a cherry farms, where the short three-week window to harvest in Niagara means farmers like Jordan's Paula Bryk are, in a sense putting all their cherries in one basket.
"There's a very short window to pick them," said Bryk, who recently took over operation of 20 Valley Harvest Farm, which has been in her family for four generations. With 26 acres of mostly cherry trees on her Jordan property, Bryk is turning it into a pick-your-own farm this year after renting it out the past few.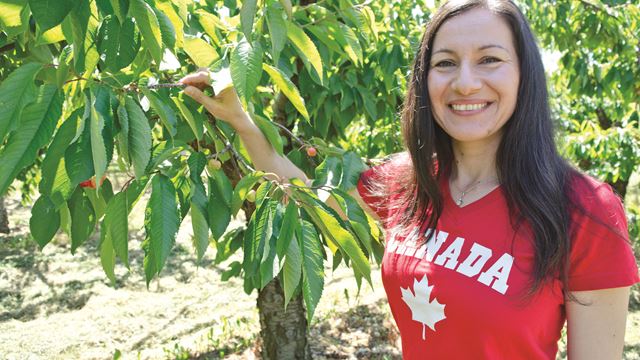 Paula Bryk is turning her Jordan cherry farm from wholesale to pick-your-own, and is planning an opening celebration when the season kicks off in early July.

"There's so much cherry production in the United States, and they can produce it more cheaply," she said about the decision to switch from wholesale to pick-your-own, along with some retail opportunities.
Bryk's great grandfather purchased his first farm in Jordan valley in 1928, and purchased the property where 20 Valley Harvest Farm is currently located sometime after that. For a time it was a mix of tender fruit but now focuses on cherries, both sweet and tart varieties.
While her brother was expected to take over the farm, those duties have fallen on Bryk, who is studying for a master's degree in sustainable food. As a result, she's put a large focus on turning 20 Valley Harvest Farm into as sustainable an operation as possible. She does that by using integrated pest management, which attempts to use the least amount of spray as possible.
"It times the spray for exactly when the cherries need it," she said. A second farm she owns she is transitioning to organic.
She's also become co-chair for the Waterloo Region Food System Roundtable, which keeps her doubly busy.
While this year's cherry season may be a little bit behind due to the weather this spring Bryk expects the cherries to be ready in early July.
"We haven't had the 30C weather (until recently) and it's been cool at night," she said. "If we get consistent hot weather we could be ready for Canada Day."
Bryk is planning a big opening season celebration on the farm, where she'll be inviting the community to come out and pick some cherries, enjoy the farm life and take part in activities and draws.
In fact it was the exposure to farm life that was part of the reason Bryk decided to go to pick-your-own.
"People get to come spend a day on the farm," she said. "It gives them an appreciation for the work that goes into producing food."
Bryk hasn't set a firm date for her opening celebration, as it depends largely on the weather over the coming days. For more information visit www.20valleyharvest.com. The farm is located at 4235 15th St. in Jordan.
Sidebar:
Cherry Vinaigrette Recipe
Though Bryk grew up around cherries, she admits she never learned to cook much with them, mostly because she was always so busy picking them. Luckily, friend and nutritionist Sandra Venneri has helped Bryk out, providing this recipe for a cherry vinaigrette.
Ingredients
2 cups of pitted cherries
1/4 cup of red wine vinegar
1/4 cup of canola oil
1-2 tbsp of maple syrup, honey or ice wine (preferably red!)
1/4 tsp of salt (optional, to taste)
1/4 tsp of ground pepper (optional, to taste)
Variations (Use one or a combination of them)
Herb: 1 tsp of fresh chopped parsley or cilantro/coriander
Ginger: 1 tsp of ginger root, peeled and chopped finely
Citrus: Add 1 tsp of orange, lemon or lime juice to add another layer of flavour
Directions
Chop by hand or use a food processor/blender to blend cherries to a pulp. Set aside.
Place the rest of ingredients in order as they appear into a salad dressing cruet or container. (A funnel helps.)
Add blended cherries into cruet.
Shake and serve. Refrigerate any extra dressing.
Servings Per Recipe: 1 cup of dressing or 16 servings of 1 tbsp (15mL) each.
Recipe courtesy Sandra Venneri, BSc, PHEc of Nutrition Bites Consulting
Original Niagara This Week article link: http://www.niagarathisweek.com/community-story/6733621-cherry-oh-baby/